Do You Have A Construction Project In Sydney that We Can Help With?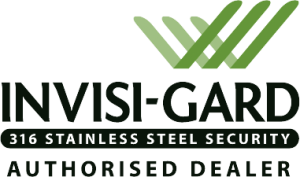 INVISI-GARD is Australia's premier security screen brand because it's made from the toughest material in its class & features unique patented product architecture. The combination of these two vital features provides the maximum protection for your family & your home.
At the heart of every INVISI-GARD security screen & security door is the high tensile 316 marine grade stainless steel mesh. The grade 316 mesh used in INVISI-GARD sets the world standard in terms of its quality, precision & longevity.
This class leading mesh is retained in an aluminium frame using the patented EGP (External Grip Protection) retention system. This unique design ensures maximum strength & durability through an assembly technique that avoids contact between the two dissimilar metals – a major cause of corrosion over time.
INVISI-GARD is designed first & foremost to protect your family & home from would-be intruders and performs this task better than any other product on the market. It also protects your home from flying insects & maintains your view.
INVISI-GARD security doors & screens are without question the best investment for your family's safety. They are also the best investment for the look & value of your home.
Why choose INVISI-GARD?
10x the strength of the Australian Standard in terms of absorbed energy.
Heavy duty extruded aluminium perimeter frame for extra strength.
The patented EGP retention system ensures the mesh can withstand dynamic impacts.
The 316 marine Grade Stainless Steel Mesh is extremely difficult to cut.
The patented EGP retention system means no unsightly screws or other fixings.
INVISI-GARD is supported by a 10-year warranty from ALSPEC, a wholly Australian owned company that has been in business of supplying building products to the high specification commercial building industry for more than 35 years.
The powder-coat finish on INVISI-GARD has been specially developed to ensure great looks, clear vision & long life.
The EGP retention system ensures that there is no contact between the mesh & frame, eliminating the threat of corrosion that is present when there is contact between 2 different metals.
All INVISI-GARD hinged doors are fitted with three point locks plus three hinges for added security.
The EGP retention system actually pulls the mesh tightly into the frame so that your door looks great & eliminates the possibility of sag.
INVISI-GARD easily exceeds all relevant Australian & industry standards.
Each INVISI-GARD door & screen is custom-built to suit your home.
A full range of standard colours is available for optimum aesthetic impact.
When they're looking for an aluminium door or window at the right price, Residents across Sydney including from areas like Caringbah, Cronulla, Kirrawee, Sutherland, Menai, Miranda, Shire, Sylvania & more know to trust the experience of the JWR Constructions team. Call 02 9545 0886.
Fill in the form below to request a no-obligation, free quote for your project.